Description & Details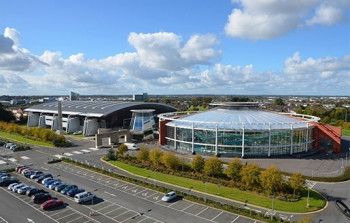 National Aquatic Centre in Dublin is not only one of the most exciting attractions in Ireland, it is also among the biggest swimming pools in the world. It is the perfect destination of a day out with the family, but also a hotsport for amateur and professional sports swimmers.
Along with an international competition pool, the Aquatic Centre features an innovative waterpark, AquaZone. This area boasts various waterslides, a surf pool, a wave pool, and attractions for kids of all ages.
Heated pool
Wave pool
Competition Pool
Interesting facts
There are numerous parking facilities nearby.
There's no need to be starving! A kiosk and a restaurant cater for all tastes and needs.
Videos about National Aquatic Centre Dublin
Aquazone / National Aquatic Centre -... | 02:37
National Aquatic Centre PromoPromotion Video of the National Aquatic Centre made by...
How to get there
By car
From the city centre
At Dublin City Gallery, drive onto R135 and turn right onto R108, which becomes R135 there. Follow the road, then turn left before Finglas onto Wellmount Road. At the roundabout, take the second exit, then go left onto Cappagh Road. Pass the next roundabout to stay on this road, then take the first exit at the next one to get onto Snugborough Road/R843. The National Aquatic Centre is on your left.
From Dublin Airport
At the airport, turn right onto Old Airport Road, which you follow for 2km. Turn left onto R108, then enter M50 southbound. Leave the motorway at exit 6 towards Canvan onto Navan Road/N3, which leads you to Blanchardstown, where you take exit 2 after 2km. Keep right and finally turn right onto Snugbourough Road/R843, before taking the first exit at the roundabout. The Aquatic Centre is on your right.
By bus
From Dublin city centre, get bus line 38 or 38A from O'Connell Street to Snugborough Road in Blanchardstown.