Description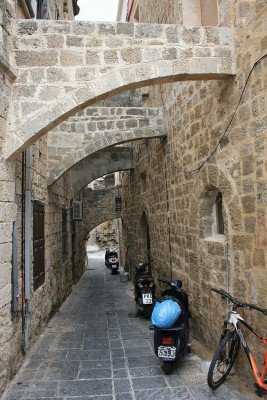 History
The old town, or also known as the medieval town of Rhodos, was listed as a UNESCO cultural world heritage site in 1988. It was built in 408 BC and was founded through the merging of the three towns of Lindos, Lalyssos and Kameiros. Rhodos is both the capital city of the island and its traffic hub.
The old town
The line between the old town and the newer parts of the town is quite distinctive as it runs through the former fortification wall of the Order of St. John, which nowadays divides the two parts of the town.
The centre of the old town is the Grand Master Palace, which is located at the highest point of the city and dominates the area especially through its large appearance. One of the oldest churches in this area dates back to the 9th century. In the north, one will find the Mandraki port. Legend has it that one of the seven world wonders once stood here, the Colossus of Rhodos. The little streets of the old town are so inviting for some exploration tours. In those narrow streets full of nooks and crannies one can easily get lost, though.
Another highlight of the old town is the knights street. In the 14th and 15th century, knights built hostels for their territorial associations here. Some of those buildings have been well-kept up to this very day. Partially, one can still see the original crests of the respective former inhabitants on the outside walls of the buildings.
Greek wine
When it comes to food and you wish to eat out in a traditional greek way, then the newer districts of the town will offer the best choices. In addition, there are not as many tourists here as there are in the older part of the town. Usually, a greek meal is accompanied by wine. The grapes that account for most of the wine being served to the guests actually originate from the island. Even low priced bottles of wine are tasty and recommendable.
How to get there
By public transport
The old quarter of Rhodos is located at the northern point of the island. There is an airport in the vicinity, which is well-connected to the island, travelling by bus, taxi or car.
Video
Rhodos Stadt Tour Info Video HD | 17:04