Description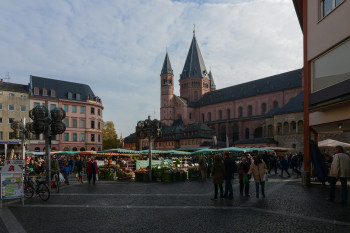 In the centre of Mainz's old town stands the imposing St. Martin's Cathedral. The massive structure made of red sandstone is around 1,000 years old and still bears the imprint of its original Romanesque architecture. The cathedral consists of three naves, two choirs (east and west choir) and numerous side chapels.
The cathedral is freely accessible outside of service times and can also be visited as part of a guided tour
Historical Information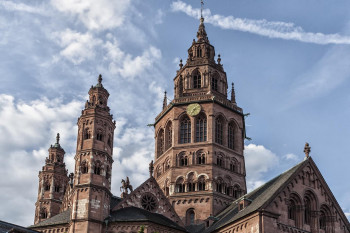 Mainz Cathedral was built by Archbishop Willigis to demonstrate his special position in the empire and the church. He had the cathedral built after the model of St. Peter's in Rome. This is why the main altar - like the papal altar in Rome - is located in the west of the church and not in the east as is usually the case.
The foundation stone for the cathedral was laid around 975, but when the cathedral was to be consecrated in 1009, it burned down shortly before or after the consecration and had to be rebuilt. This fate befell Mainz Cathedral several times over the centuries. After a second fire, the cathedral was finally consecrated in 1239, with which the building was considered complete. The basic form and design of that time have been largely preserved to this day.
In total, Mainz Cathedral had to survive seven fires, after each of which it was rebuilt with new elements and styles. For example with the Gothic choir screen and Gothic side chapels. When the western group of towers burned down after a lightning strike in 1767, they were replaced with new Baroque spires. Instead of using wood as before, the new roof of the west group was built with stone, which proved fortunate in the next fire in 1793. While the east group and the roofs of the nave burned down, the stone roofs in the west held out.
How to get there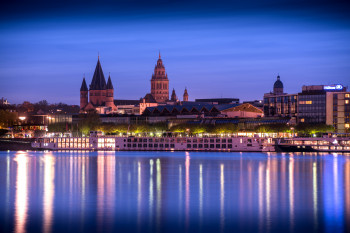 Mainz is located about 40 kilometers southwest of Frankfurt am Main. Mainz Cathedral is located in the centre of the old town between Marktplatz and Liebfrauenplatz. The nearest parking facilities are in the Parkhaus am Brand or in the Parkhaus Theater.
From Mainz main station it takes about 15 minutes to walk to the cathedral. You can also take the tram to Höfchen.
Video
Drohnenflug um den Mainzer Dom | 02:58