Description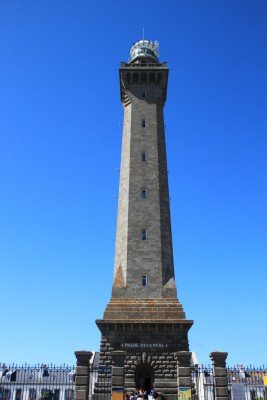 The Lighthouse of Eckmühl (Phare d'Eckmühl) rises 60 metres above the sea at the Cornouaille headland, one of the most dangerous places on the Breton coast. It is one of the highest lighthouses in Europe and one of the most famous landmarks in Finistère.
Visitors to the lighthouse have to climb a whole 307 steps to reach the top. But the strenuous climb up the spiral staircase is rewarded with a magnificent panoramic view. From the Phare d'Eckmühl you can enjoy the view of the Glénan Islands, the island of Sein and, of course, the coast and the ocean.
At the bottom of the lighthouse you will find a small marine centre with exhibitions. In the numerous street cafés you can follow the hustle and bustle on site and fortify yourself with food and drinks. Around the lighthouse, there are also wonderful beaches for swimming. The five-kilometre-long sandy beach of Steïr and the beach of La Joie are ideal for a family outing. Pors-Carn, the wildest of these beaches, is particularly popular with surfers. The little chapel by the sea, with its bell tower flanked by two turrets, is also worth a visit. This is where sailors who ventured to the dangerous headland of Penmarc'h worshipped the Blessed Virgin. Inside you can admire numerous votive tablets.