Description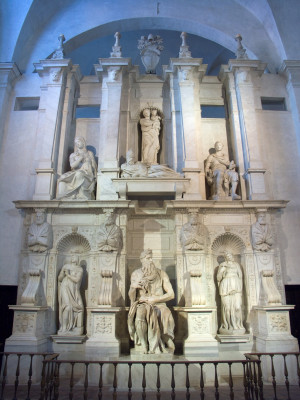 San Pietro in Vincoli is a titular church situated near the Colosseum by the Esquiline, one of the celebrated Seven Hills of Rome. The foundation stone of the church was set in 431 A.D. Today's San Pietro in Vincoli is built on remains of old parts of the basilica from the 2nd century. The church was rebuilt many times over the centuries, especially by the titular cardinal and future Pope Julius II.
The name 'San Pietro in Vincoli' translates to 'Saint Peter in Chains', and goes back to a legend in which Peter was imprisoned and kept in chains in Jerusalem until he was miraculously saved. Centuries later, the chains were presented to Pope Leo I. Today, the chains are kept in a reliquary under the main altar in the basilica.
The free-standing monument for Julius II within the church is a particular highlight. It was built by Michelangelo, and is decorated with a statue of Moses. Even though the memorial was built for him, Pope Julius II. was not buried in San Pietro in Vincoli, but in the Vatican.
How to get there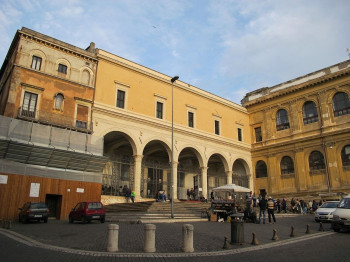 You can easily get to the church by metro. The stop is Cavour Station. Cross the Boulevard, go up the stairs and turn right towards the Palazza. The church is located on the left-hand side.
Video
Basílica San Pietro in Vincoli –... | 04:06