Description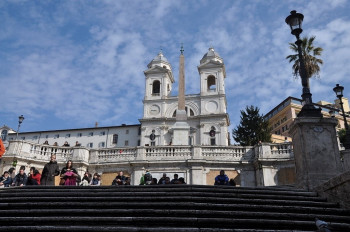 Being popular among tourists and locals alike, the Spanish Steps are indisputably one of the most beautiful places in Rome. In the native tongue of the country, Italian, the Spanish Steps bear the name "Scalinata di Trinità dei Monti", whereas in English its name is derived from the square the sight is located on, the Piazza di Spagna. This way it seemed logical to name the Spanish Steps after the Square of Spain in Rome. Counting 138 steps, it is probably the best-known flight of stairs in the world.
Historical Information
Pope Innocent XIII was said not to be very fond of the overgrown slope that led from the church of Santa Trinità di Monti down to the Piazza di Spagna. That's why he unceremoniously initiated the construction of the flight of stairs, which later became the Spanish Steps. The Piazza di Spagna then had an entirely different meaning. It actually used to be Spanish sovereign territory as a part of the Spanish embassy at the Holy See. Standing here as a non-Spanish citizen, on Spanish territory in the middle of Rome, one was facing the danger of being recruited for the Spanish army.
Not only Pope Innocent XIII had a particular interest in the construction of the stairs, but also the French King Louis XIV. Because he had financed the church Santa Trinità di Monti, he required a splendid ascent for it. He was planning a huge equestrian portrait of himself to decorate the stairs appropriately and thus turning them into a French monument. This then led to a conflict between the Pope and the Sun King. The Latin inscription "opus autem vario rerum interventu", which in translation means "the completion of the work was hindered by various causes", is an evidence for the discrepancy that overshadowed the construction of the stairs. The Vatican could prevail against other opinions and effectuated the construction of the church in 1721 in Romanesque style. Only a plaque was dedicated to the French king. Various elements and ornaments of the stairs, such as the lilies and bourbons or the papal eagle, are reminiscent of the conflict.
In the 18th and 19th century many international artists used to live around the Piazza di Spagna, for instance, the romanticists John Keats and Percy Bysshe Shelley. This part of the city has meanwhile been turned to a shopping area with many designer shops.
How to get there
By bus
Take line A.
By subway
Take line 117 and get off at the station "Piazza di Spagna".
Videos
No more sitting on the Spanish Steps! | 07:39
The Spanish Steps, Rome | Virtual travel...(A) Available for all.It is not so often that a few...
Rome Spanish Steps | Walking Tour 2021Rome Spanish Steps. A Walk in Rome of Piazza del Popolo,...