Description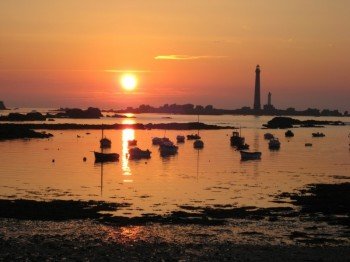 Europe's highest lighthouse
The Île Vierge measures 82,5 meters and is the highest lighthouse in Europe. It belongs to the small village Plouguerneau in the Département Finistère. The tower, built towards the end of the 19th century, was thelast manned lighthouse in Brittany until the end of 2012.
Spectacular views
Climbing the 397 stairs of the lighthouse rewards you with a phenomenal view. From here, you are overlooking the reef coast of Léon in the north of Brittany, as well as the English channel and the Celtic Sea.
The Phare de l'Île Vierge
The inside of the lighthouse is covered in white opal glass tiles, as a protection from humidity and dust. When you reach the end of the stairs at the very top, you will find a wooden covered room. This used to be the dormitory of the lighthouse keeper, who kept the beacon fire going with 20 liters of oil every night.
Practical info for your visit
A trip to the lighthouse is worthwhile not only because of its fantastic panoramic view. The Phare de l'Île Vierge with the glittering sea in the background is also a very romantic photo motive, especially at dusk. If you are planning a day trip, you should not forget to pack a lunch or picnic. The small island harboring the lighthouse can be reached easily by speedboat between April and October from the harbor in Lilia. The crossing takes only a few minutes. On a few days per year, it is even possible to walk to the island at low tide.
Historical Information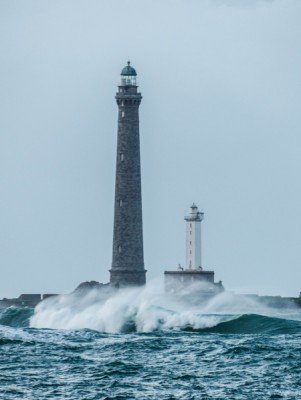 Already between 1842 and 1845, a quadratic, 31 meters high lighthouse was built on the island Vierge. The illuminating power of this tower did not reach far enough though. A second lighthouse was therefore added almost 50 years later: The Phare de l'Île Vierge. It was created between 1897 and 1902 and has since been the highest, lithic lighthouse in Europe. Its luminous range is 27 seamiles, about 52 kilometers. In the course of the years, the tower has been modernised many times. It was supplied with electricity in 1956 and since October 2010 works fully automated and is controlled from the lighthouse Créac'h on the island Ouessant. In May 2011 the lighthouse was added to the list of historic monuments of France.
How to get there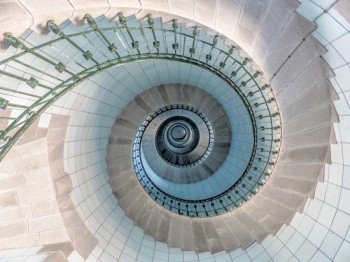 By car
The lighthouse of the Île Vierge is located about 30 kilometers north of Brest. Follow the D13 over Bourg-Blanc and Lannilis until Plouguerneau. There you change to the D71, which leads you up to the Kastell Ac'h, from where a ferry will take you to the Phare.
Videos
Phare de l'île Vierge | 00:58
Le plus haut phare d'Europe est sur...Extrait de l'émission "Des Racines et Des Ailes :...
Visite du phare de l'île Vierge au...Découverte du littoral par la mer, de...