Description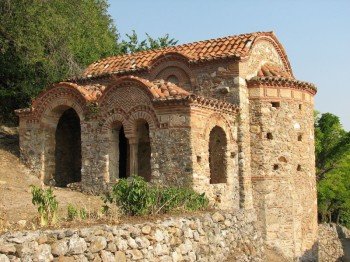 History
The remains of Mystras are located on a mountain above Sparta. In 1249 the castle was built by Franconian crusader William II of Villehardouin. The castle had been the main part of the city and ought to secure the reign over the area. Eventually, it became a part of the Byzantine realm and just below the castle a flourishing city was created, allowing Mystras to become a cultural hub of the region.
In the course of history, the region had been conquered by various troops time and again. Through several wars the city area had been destroyed several times. Towards the end of the 18th century the city was destroyed to such an extent that a reconstruction seemed not to make much sense. As a consequence, many of Mystras' inhabitants moved to the neighbouring Sparta.
Mystras today
Nowadays, there are only ruins left of the once prosperous city of Mystras. Fortunately enough, many of the church frescos were preserved. There is a monastery here that is still inhabited, which is quite an exception for the otherwise deserted area.
In 1989 the remains of Mystras have been declared a listed UNESCO world heritage site.
From here you can enjoy a wonderful view on the valley and the surroundings of Mystras.
How to get there
Mystras is located above Sparta on a height of 620m (680yd) altitude.
By car
To get here by car, you first need to drive in the direction of Sparta, then continue on the road towards Kalamata and after approximately 5km (3.1mi) you arrive in Mystras.
By bus
You can also travel by bus from Athens to Sparta and change to a bus taking you to Mystras. The bus service between Sparta and Mystras operates several times a day.
Videos
Mystras ???????? Greece Travel Guide... | 13:00
Mystras - Greece Best Place - Travel &...subscription_center