Description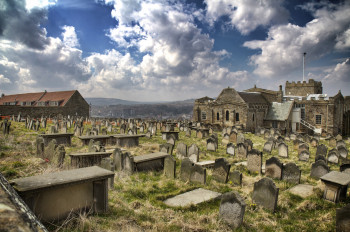 Whitby is a small coastal town in North Yorkshire County. The town became famous for Bram Stoker's novel Dracula from 1897. During a visit, the church of St. Mary's and its cemetery are said to have inspired the Irish writer to write a story about the bloodthirsty count.
199 steps lead up to the famous cemetery and 900-year-old church on the cliffs of the North Sea. Right next to it are the ruins of Whitby Abbey. The monastery's ruines and the gravestones of the old cemetery still create a scary atmosphere today. Due to heavy rainfalls, the historic cemetery was partly destroyed by a landslide. Centuries-old bones were uncovered and fell onto the roads at the foot of the cliff.
Dracula fans will find the Dracula Experience Whitby Museum on the other side of the river Esk. In addition, a Gothic Festival is held twice a year in Whitby.
How to get there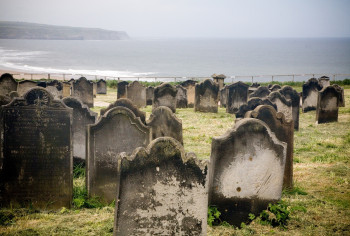 Whitby is located on the A171 between Scarborogh and Middlesbroug. If you would like to travel by ferry, Newcastle upon Tyne is the best place to get to Middlesbrough via the A19 and then take the A171 to Whitby. The nearest airports are Newcastle and York.
Videos
St. Mary's Church and Graveyard,... | 01:59
Whitby, North YorkshireWhitby views.
UKs Most HAUNTED Graveyard? | GHOSTS &...Join the Paranormal-X team as we yet again venture out...
Whitby In TimelapseTimelapse Photography of Whitby, England. Contact:...
Whitby [Dusk Descends]HD Time-lapse Dusk over Whitby Harbour in North...