Description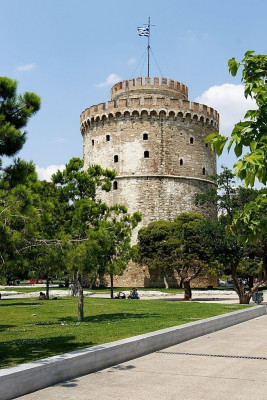 History
The White Tower of Thessaloniki is a historic monument constructed between the 15th and 16th century. Sited directly along the Thermaic Gulf, both the entire city and the sea can be viewed from here. In its long history, the tower had been used for any kind of purposes, for instance, as a fortification or as a prison.
Its predecessor was originally built in 1185 and was sited along the former eastern town wall of Thessaloniki. The name "White Tower" emerged in 1912 when Thessaloniki was reconquered during the first Balkan war. It was therefore symbolically whitewashed with limestone.
Architecture
The tower intertwines two cylindrical architectural components, which are set atop of each other and result in a height of 29m (32yd). The whole building contains six floors, which can only be accessed via the staircase.
The Museum of Byzantine Culture
Nowadays, the tower accommodates the Museum of Byzantine Culture, which informs visitors about the history of Thessaloniki.
How to get there
By public transport
The White Tower is directly located at the coast of Thessaloniki. In the vicinity, one finds several bus stops. From here you can walk to the tower.
By foot
Alternatively, you can opt for strolling through the city and walk along the coast until you arrive at the White Tower.
Videos
Thessaloniki ,White Tower , Greece -... | 03:03
Travel Greece - Tour of the White Tower of...Take a tour of White Tower of Thessaloniki in...