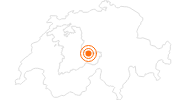 Webcams near the Tourist Attraction Ballenberg Open-Air Museum
Webcam Information
6 webcams are in this Tourist Attraction's vicinity. The webcams fall into three groups, namely 2 live streaming webcams, 2 panoramic webcams und 2 further webcams.
The highest webcam (Roundshot Rothorn Summit Soerenberg) is situated 2243 metres above sea level, wheras the lowest webcam (Axalp - Chamihüttli) is situated 1450 metres above sea level.
According to its visits, the webcam Axalp: Panoramic View is the most popular one in the vicinity.
Travel Deals & Tips
Advertisement
Share your personal insider tip and create new entries
Explore fantastic outdoor destinations when and where you want
Find your dream destination or discover the world on the interactive map