Description
Action-packed adventures, even more thrilling and explosive than any blockbuster – that is Movie Park Germany.
In Germany's largest movie and amusement park, you can experience around 40 breathtaking attractions, fast-paced roller coasters and sensational shows in seven themed areas and let famous movie and TV heroes take you into the fascinating world of Hollywood.
Guests can look forward to even more Hollywood adventures in 2021 as the script for the next big attraction blockbuster has been written! Movie Park Germany celebrates its 25th birthday with a new, spectacular "Multi Dimension Coaster". The new family coaster "Movie Park Studio Tour", inspired by the glorious movie studios in California, takes guests on an up to 60 km/h thrilling Hollywood studio tour with different sets and scenes. Sound and special effects, two forward and backward launches as well as a 360-degree turntable provide an immersive experience with multimedia elements. Welcome to Movie Park Studios! Here, visitors have the chance to become stars themselves for one day.
Parents and children can also experience lots of fun in the PAW Patrol themed area "Adventure Bay". Here, young and older fans of the popular TV series can dive into the world of their canine heroes. Three family attractions – including the most recent attraction "Skye's High Flyer" – as well as the well-known PAW Patrol command tower bring the children's series to life in Europe's largest Nickland.
Movie Park Germany is also the only theme park in the world to offer a spectacular roller coaster with the official Star Trek™ license. The intergalactic triple launch coaster "Star Trek™: Operation Enterprise" beams guests into new spheres at warp speed. Numerous inversions, spectacular track elements and the 40-meter-high twisted halfpipe, unique in Europe, let them become part of the mission to rescue the U.S.S. Enterprise.
For those who like it a little darker, the park turns into the biggest Halloween event in Europe starting in October. More than 280 monsters, numerous horror mazes and special scare zones will make even the bravest guests' blood run cold at the multi-award-winning Halloween Horror Festival. For even more adventure and action, the indoor coaster "Van Helsing's Factory" takes you on a fast-paced vampire hunt through the darkness or Germany's first wooden roller coaster "The Bandit" takes you on a high-speed chase through the Wild West.
How to get there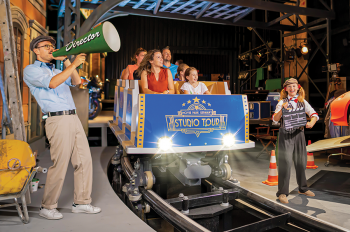 By car: The Movie Park Germany is accessible via the A31. Take the Kirchhellen-Nord exit and follow signs for the park. Parking costs 6 €.
By public transport: Bus SB16 runs from Essen central station via Bottrop to the Movie Park, with buses stopping directly in front of the main entrance. Regional trains travel as far as Feldhausen station which is just 400 metres on foot from the park.
Videos
Movie Park Germany - Deutschlands... | 00:20
Star Trek™: Operation Enterprise - OnrideSichere Dir jetzt Tickets für Deine erste Fahrt unter...
Willkommen in den Movie Park StudiosEndlich ist es soweit und wir können Euch wieder einige...
Movie Park Germany HHF Shorts 2 FamilyErlebt filmreife Momente und trefft Eure Helden im Movie...
???? Movie Park's birthday present for...???? Noch mehr Hollywood in Germany für 2021! ????...