Description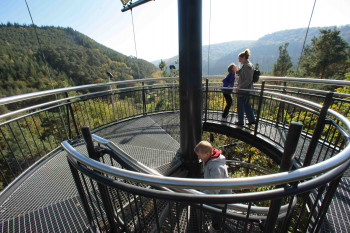 The Biosphere House Pfälzerwald/Nordvogesen offers an exhibition on four floors with information about the inhabitants, the natural area and the special features of the biosphere reserve. Each topic is explained to both adults and children with knowledge and play stations, and there are play corners on two floors for the very young. A special feature is the nighttime area, where you can experience the reserve's inhabitants at night in a darkened room. You can also take part in the Biosphere House Rally for groups, which is available in two difficulty levels. A falconer offers daily bird of prey demonstrations and also teaches visitors about the ecology and protection of the animals.
A café & bistro takes care of your physical well-being. For groups, there are several special offers such as lectures and guided tours, active programmes and rooms for conferences.
Experience nature outdoors
In the outdoor area of the Biosphere House, there are 3 adventure trails: the Move-yourself Trail with 10 stations where you can do sporty exercises on fitness elements, the Biosphere Adventure Trail with swinging benches, hammocks, a natural Kneipp facility and a bathing lake, and finally the Water Adventure Trail. All trails are about 2.5 km long, start and end at the Biosphere House and offer many interactive stations. For the little ones, there has also been the Keltenwiese playground since 2014.
The Wappenschmiede Nature Experience Centre offers overnight accommodation for groups as well as environmental education events and, as a beaver centre, an exhibition on the beaver. There is also a biosphere shop with agricultural and handicraft products from the region.
The treetop walk
Germany's first treetop path is 270 metres long and is located at a height of 12-18 metres in the treetops of the Palatinate Forest. It is barrier-free and can be accessed several times during a visit. Highlights are the 40-metre high observation tower, a giant spiral slide, 3 wobbly bridges and 10 interactive play stations all about the region's natural environment.
Historical Information
The Biosphere House was a project within the framework of EXPO 2000 in Hanover, and the treetop path has existed since 2003.
How to get there
If you come via the B 427, leave it in Reichenbach onto the L 489, follow it to the L 478 and drive along it to the Biosphärenhaus.
There is an e-charging station at the Biosphere House.
Videos
Der Baumwipfelpfad beim... | 05:29
Biosphärenhaus und BaumwipfelpfadFilm über das Biosphärenhaus mit Baumwipfelpfad in...
Biosphärenhaus Pfälzerwald mit Baumwipfelpfad---------------------------------------------------------...