Route description
This easy hike immerses you into the mining tradition around Carlsfeld. It gets you to original venues, where you learn more about the history of this industry through information boards. You pass Weitersglashütte, where glass was produced from the 17th century until the early 20th century, or to Trinity Church, wich was built by Veit Hans Schnorr von Carolsfeld for his workers between 1684 and 1688.
You start at the centre of Carlsfeld, and walk towards the north. Cross Carlsfelder Hauptstraße and follow Eibenstocker Weg, which continuously ascends at first. After about 1.5 kilometres, you turn right onto Teichweg. Turn right into Frühbußer Straße at the fork. The path now slightly descends until it meets Carlsfelder Straße. Turn right and follow the road that leads you to Weitersglashütte.
Around 300 metres after the town, you leave the road to the right onto Kammweg. Just after the highest point of the hike, you get to the Carlsfeld dam. Cross the retaining wall of the highest drinking water dam in Germany. From there, follow Sachsenberger Weg northbound back to Carlsfeld, where you started.
Where to eat
You can eat at Gasthaus Talsperre, or Gasthof Zum Hirschkopf at the centre of Carlsfeld.
Interesting facts
You're traveling a distance of 5 miles on this easy trail. The hike is therefore not too long. Average length of all hikes in Saxony is 28 miles.
Elevated between 2684 ft and 3002 ft, the hike is among the 3 highest elevated hikes in Saxony. You're facing an uphill climb of 81 vertical meters on this hike. The track is therefore relatively flat.
This easy hike is perfect for the whole family.
Hiking boots are not required, but the hike might be more enjoyable with sturdy footwear (especially in wet conditions). If you get hungry along the way, there are places to rest and get food. Nevertheless it's recommended to also have enough water and food in your backpack when hiking or biking.
Highlights of the tour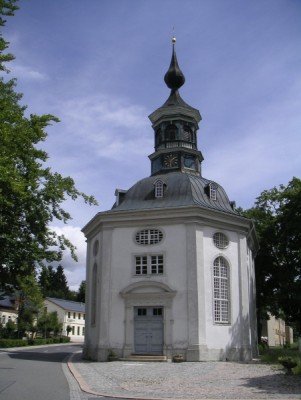 The trinity church is among the historical highlights of the tour.
Variations
You can prolong the way for around 3.5 kilometres by walking aruond the dam.
Getting here
By car
Follow motorway A72. Coming from the south, you exit at Treuen and drive towards Auerbach. Continue to Mühlenthal and change onto B283. Turn right towards Carlsfeld at Wilzschhaus. Coming from the north, take exit Hartenstein and continue on B283 to Eibenstock. From here, follow the main road to Wildenthal, then Carlsfelder Hauptstraße to Carlsfeld. Car park available at the tourist information.
Public transportation
You can go to Johanngeorgenstadt by train. From there, busses go to Wildenthal and on to Carlsfeld.