Interesting facts
You're traveling a distance of 7 miles on this moderate trail. The average length of all hikes in Saxony is 27 miles.
You're facing an uphill climb of 377 vertical meters on this hike. This makes the hike one of the 3 hikes with the most ascent in Saxony. The highest point of the track is 2684 ft above sea level.
Don't hesitate to take your kids along on this moderate hikes.
In case of good weather conditions, the hike can also be done without bringing your hiking boots. There are places to buy beverages and food along the track. However it's always recommended to bring enough water and food along with you.
Route description
This hike leads you around the town of Neudorf, at the river Sehma. Neudorf is surrounded by Saxony's largest forest area, which makes it a perfect starting point for hikes. The circular path consists of forest as well as field tracks and hiking trails, and is marked white-yellow-white and well signposted.
Clock-Wise Around Neudorf
Start at the tourist information Sehmatal at the city centre, from where Sternweg trail gets you to the edge of the forest. Here you can take a little break on Bärenstein bench, before you walk clock-wise around Neudorf. Follow Sternweg a little longer, then turn right onto Erlheidenweg, which leads you to Kretscham-Rothensehma. At the edge of the town, you come across a four metre replica of the Pyramid of Cheops, which Hugo Eberwein had built in 1916, after his visit to Egypt.
Walk along the road and then turn onto the field track. Continue along Rote Sehma river to Obermühle. You walk past a water pond, where you can refresh your feet. In Obermühle, follow Viererstraße, which you leave to the right after the train tracks. Continue uphill after Bethlehemstift. Cross Siebensäurestraße, and walk to the hut on Gründelweg. Follow Firstweg for a bit, before you keep right onto the stone path.
Along the Forest
When you reach the resting spot at Reichel fountain, go left on Crottendorfer Straße towards Neudorf. Then turn left onto Estelweg, cross Dorfstraße and keep left. Across the train tracks, continue to the east side of the valley. Hike past Habichtsberg hut and along the edge of the forest, until you return to Sternweg. This trail leads you back to the starting point.
Overnight stay available
Eating options available
Where to eat
There are a few options to get a bite to eat along the trail:
Gaststube Zur Bimmelbahn
Gasthaus Zum Holzwurm
Gaststätte Kaiserhof
Waldgaststätte Siebensäure
Hotel Vierenstraße
Gaststätte Zum Waldfrieden
Highlights of the tour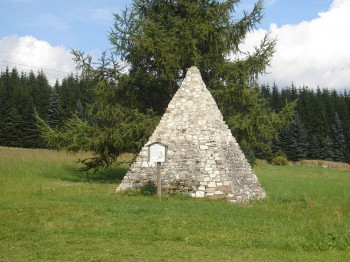 The hike features numerous beautiful views, and leads throught the varied forest landscape around Neudorf. Furthermore, you come across a curious replica of the Pyramid of Cheops.
Variations
As the circular path leads around Neudorf, you can always abort or shorten the hike.
Getting here
By car
Motorway A72 gets you to Stollberg-West, where you drive onto B169. Continue to Scheibenweg via Gablenz and Zwönitz, where you drive onto B101. Exit the town and turn left onto Scheibenberger Straße, which you follow to Neudorf. You can park at the protestant church.
Public transportation
If you want to travel by rail, regional trains get you to Cranzahl. From here, the privately operated Fichtelbergbahn takes you to Neudorf. Buses go from Annaberg-Buchholz or Oberwiesenthal to Neudorf.