Route description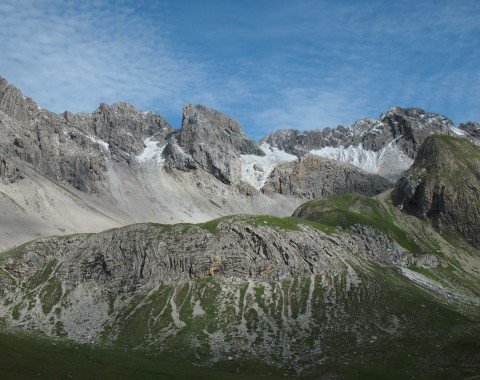 This is the second stage of the E5 long-distance trail across the Alps from Oberstdorf to Meran. You will cross the German-Austrian border and start hiking at Kemtpner Hut, you reached the stage before, all the way up to the Memminger Hut. You may want to make a shortcut by hopping on the bus from Holz to Madau, therefrom ascending to the Memminger Hut. The following stage will guide you from the Memminger Hut to the city of Zams.
Interesting facts
You're traveling a distance of 15 miles on this moderate trail. This makes it a relatively long hike. Average length of all hikes in Tyrol is 9 miles.
You're facing an uphill climb of 1424 vertical meters on this hike. The highest point of the track is 7310 ft above sea level.
Make sure to bring sturdy footwear on this track. Hiking boots are highly recommended. If you get hungry along the way, there are places to rest and get food. Nevertheless it's recommended to also have enough water and food in your backpack when hiking or biking.