Description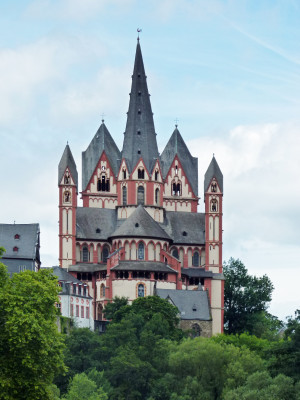 The colourful Limburg Cathedral is perched on a rock above the small town on the Lahn and can be seen from afar. From the picturesque old town of Limburg, you can walk up winding alleys to the impressive St. George's Cathedral. The building is a mixture of Romanesque and Gothic styles. While the massive construction is rather Romanesque, especially the high, light-flooded interior is Gothic in design. In reference to the seven sacraments, the cathedral also has seven towers.
A special feature of Limburg Cathedral, apart from the colourful exterior facade, is that it is accessible on several levels. In the Middle Ages, processions even took place in the arcades of the galleries. The triforium above is also accessible. There is even a walkway that leads around the outside at window level.
Historical Information
Where Limburg's St. George's Cathedral stands today, there was already a small St. George's Church in the 10th century. This was replaced by a larger one in the 11th century. With the increasing prosperity of the town, the citizens decided, together with the resident canonry, to also replace this church from about 1180. The new church, although identical in plan to its predecessor, became a much larger, multi-storey building. The completed collegiate church was then consecrated in 1235. The church only became a cathedral and bishop's church in 1827 with the foundation of the Limburg diocese.
How to get there
Limburg an der Lahn is located directly on the A3 between Koblenz and Frankfurt am Main. The parking guidance system makes it easy to find parking spaces in the city. The closest car parks to the cathedral are the parking garages Altstadt (P1) and Cityparkhaus (P10). A little further away, but free of charge, are the car parks at Schleusenweg (P35), Philippsdamm (P36) or Marktplatz (P32).
From Limburg train station it is a 10-minute walk (700 meters) to the cathedral. The way leads you through the alleys of the old town.
Videos
"Hessen von oben" - Der... | 01:37
Limburger Dom 4KDer Limburger Dom ist einer der schönsten Dome überhaupt....
Limburger Dom - 100 Lieblingsorte in HessenknAFm9A-oLo