Description
Lots of attractions await you at the Oberhof Golf Climbing Park. 3000 square metres of AdventureGolf on a unique course, 75 stations in the climbing park, climbing with the KiKANiNCHEN from the age of 3, a giant swing and the FreeDrop jump from up to five metres into an air cushion ensure fun and action for every age group.
Climbing park
The climbing park offers you a unique climbing experience on three levels with heights of up to 15 metres and a total of 75 exercises. In the crystal tower, you can put together your own individual tour and decide for yourself the level of difficulty. Highlights include a ride in the original luge, an eagle flight or the partner area. On the plank run, you can prove your courage and balance on a beam at a dizzy height until you reach the bell.
Children's course
In cooperation with the ARD and ZDF children's channel, a wonderful children's course has been created in Oberhof. Together with the KiKANiNCHEN and his friends, the kids go on an exciting adventure here and face 15 eventful tasks.
Giant swing
The giant swing takes you high above the ground! In the double seat, you will experience a unique tummy tickling experience as you swing through the air above the treetops.
AdventureGolf
The climbing tower is surrounded by a fantastic AdventureGolf course with 18 holes. With an area of 3000 square metres, it is the largest course in Germany. The courses in this themed world reflect the Oberhof region with its winter sports and Rennsteig.
FreeDrop
If you're really in the mood for a thrill, you can daringly drop from a height of 3, 4 or 5 metres from the diving tower and then land in a huge cushion of air. Absolutely crazy fun!
How to get there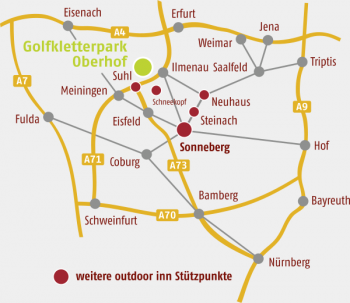 There is a separate car park directly at the golf climbing park with sufficient spaces.
Video
Golfkletterpark Oberhof | 01:15