Swimming Lake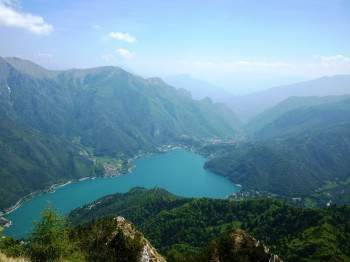 A Mountain Lake With a View
Crystal clear water, deep forests, green meadows, and a unique Alpine panorama - Lago di Ledro looks straight out of a fairytale. Formed by a moraine during the last ice age, it is now one of the most beautiful and cleanest lakes in Trentino and all of Italy. North-west of Lake Garda, it invites you to swim and relax. Whether you're looking for a fishing weekend, a mountainbike tour, a hike, or simply pure bathing fun - Lake Ledro amidst its spectacular mountain-scape is a hidden gem for holidaymakers of all kinds.
Average Water Temperature in Summer
| Month | Water Temperature |
| --- | --- |
| May | 14°C |
| June | 18°C |
| July | 22°C |
| August | 22°C |
| September | 20°C |
Beaches and Swimming at Lago di Ledro
You can find four different beaches around the Alpine lake: the beach of Pieve di Ledro in the north-west, Mezzolago at the north bank, Molina di Ledro in the south-east, and the especially quiet strip of Pur at the south bank. Nicely laid out pebble beaches and lawns for sunbathing invite you to relax and let go. Outside of the water, diverse activities, such as beach volleyball, minigolf, playgrounds, or tennis courts mix things up a little. Dog owners will appreciate the little circumscribed dog beach near Pur, where you can enjoy the sun and water along with your four-pawed friend. All access points to the lake feature public bathrooms.
Snacks, Treats, and Meals
The culinary offer at Lake Ledro leaves nothing to be desired. Right by the beaches you will find kiosks, bars, pizzerias, and picnic tables. The delicious fish dishes at the restaurants around the lake are to be recommended in particular. Sit down at one of the sun decks, enjoy the view over the water, and treat yourself to freshly caught fish from Lago di Ledro.
Towns and Accomodation at Lake Ledro
There are several little towns situated all around the lake, including Molina di Ledro, Pieve di Ledro, and Bezzecca. The 540-inhabitant town Pieve di Ledro has come to be the touristic centre. The village at the north bank is well-prepared for its visitors with restaurants, supermarkets, and accomodations. Bezzecca is Ledro valley's capital, and about half a kilometre away from the lake. If you're in Molina di Ledro at the west bank, don't miss out on the beautiful botanic garden. The towns around the Lake feature numerous opportunities for longer stays. From four-star hotels to camping sites, there is something for everyone.
Things to do
Bathing Fun at Lago di Ledro
With its high water quality, the mountain lake invites visitors for extensive swimming and bathing. If that's not enough, you can rent paddleboats, rowboats, catamarans, sailing boats, or canoes. To get your technique right you can even take sailing or canoeing lessons. Numerous wind surfers can also be seen on Lake Ledro in the summer - you can rent the necessary equipment on site.
Hike and Bike Trails for Active Holidaymakers
Active visitors should go explore the mountain-scape surrounding the lake. Hike and bike trails have good signage, and lead you through the Trient nature to the most beautiful spots in the region. For example, you can circuit the lake by foot or bike on the 10 km trail. The surrounding mountains feature another 200 kilometres of challenging mountainbike trails. A particularly interesting, but also demanding mountain hike takes you up to 2,254 metres on Monte Cadria. Furthermore, Pieve di Ledro tourist information offers a number of guided hikes.
A Fisherman's Paradise
Anglers should definitelly throw their pole into Lake Ledro, as various fish can be caught here. Among others, you can catch trout, bass, pike, carp, or tench. Don't forget to pick up your fishing licence at the tourist information in Pieve di Ledro beforehand though.
Stilt House Village - Ancient Traces of the Bronze Age
History lovers will also get their money's worth at Lake Ledro: last century, archaeologists found a true sensation here. When a hydropower station was to be built in Riva del Garda in 1929, the water in the lake was lowered, and remainings of an almost 4,000 year-old stilt house village surfaced. The village was built around 1700 BC. The remains have been declared UNESCO World Heritage, and are exhibited, along with other finds, at "Museo delle Palafitte" in Molina di Ledro.
Surf School
Sailing School
Fishing
Beach Volleyball
Bike trail
Pedal Boat Rental
Rowboat Rental
Interesting facts
Taking your dog to the Lago di Ledro is permitted.
You are hungry and thirsty? A restaurant and a kiosk provide you with meals and drinks.
Your kids are bored of bathing fun? The close-by playground will give them some variety and the chance to make new friends.
In case you are into camping, there is a campground almost within reach.
The nearby parking lot offers enough space for your car. Restrooms for both women and men are available at the Swimming Lake.
Videos about Swimming Lake Lago di Ledro
Amazing Valle di Ledro | 02:58
Valle di Ledro - Dive into the Naturevideo della Valle di Ledro e del Lago di Ledro per...
How to get there
Two long tunnels lead into the formerly isolated Ledro Valley nowadays. From Riva del Garda, 13 kilometres away, you can get to the lake via SS240. The same road goes to Lago di Ledro from the west. The towns around the lake feature numerous free car parks.