Description
Situated in the heart of Europe amidst the picturesque landscape scenery of the Alps, one of the tiniest countries in the world holds a surprise of a very special kind for us visitors: The Art Museum Liechtenstein.
Architecture
The Art Museum Liechtenstein, first and foremost, comes along wrapped up in an impressive architectural coat. The black cube centred in the middle of Vaduz, Liechtenstein's capital city, was designed by the trio of architects including Meinrad Morger, Heinrich Degelo and Christian Kerez. In spring 2015, the cube will be extended by another white cube.
The entire museum offers disabled access. All toilets, lifts, parking spaces, and stations of the public transport system are wheelchair-accessible.
Exhibition
Inside you will find modern and contemporary art spanning a period from the 19th century to the present-day. The samples exhibited include sculptures, objects and installations by renowned artists.
On a regular basis, there are special exhibitions presented in the museum highlighting the work of particular artists as well as exhibitions showing samples taken from the collection of Liechtenstein's reigning monarch, the Prince of Liechtenstein.
The Café
Find some relaxation time in the cozy café of the museum. After all those impressive works of art you may have a break and chat about art and its impact over a coffee or some excellent sushi with your friends or other lovers of art you meet here.
Historical Information
The Foundation of the museum
When the State of Liechtenstein was donated a bundle of ten paintings in 1967, the "Liechtensteinische Staatliche Kunstsammlung", the public art collection of Liechtenstein, was founded as a result of this. Years and decades later, the art museum gained many private supporters and donors who jointly and severally, in co-operation with the government and the community of Vaduz, helped the museum to be built.
Extension
In spring 2015, the black cube was extended by another building, the white cube. The project was implemented by the Hilti Art Foundation whose collection is now exhibited in the museum. In addition, the white cube features a studio for the particular approach in the communication of art.
How to get there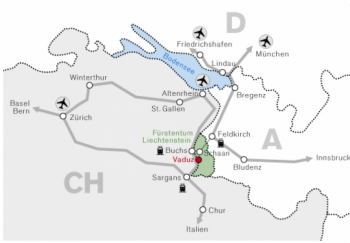 On foot
The art museum is easily reachable on foot as it is directly situated next to the pedestrian area of Vaduz if you keep walking in the direction of the Äulestraße.
By public transport
By train
Taking the train, you travel to Sargans or Buchs/SG in Switzerland or to Feldkirch in Austria. Once here, you have a connection by bus ("Vaduz Post") towards Vaduz, the capital city.
By car
From the direction of Switzerland
Coming from Switzerland, you take the A13 until you exit at Vaduz.
From the direction of Austria
Coming from Austria, you take the A14 until Feldkirch. From here you continue to Vaduz as signposted.
You will find parking spaces for cars and buses and, of course, bike racks right at the museum.
Video
Das Kunstmuseum Liechtenstein in Vaduz | 02:11