Description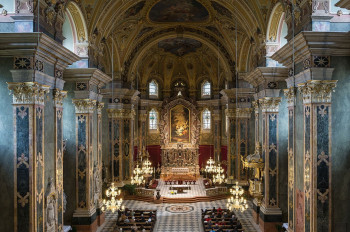 The cathedral of Brixen
The Brixner Dom, actually Dom Mariae Aufnahme in den Himmel and St. Kassian, as it is officially called, is the largest sacred building in the city of Brixen and also the cathedral and basilica minor of the highest ranking church in South Tyrol. Together with the cloister, the Frauenkirche and the Johanneskapelle the cathedral forms the so-called Brixner Dombezirk.
Architecture
The cathedral in Brixen is particularly interesting architecturally because it has been repeatedly rebuilt, extended and redesigned over the course of time. It contains Romanesque elements from around 1200, frescoes and Baroque paintings from the 18th century and, for example, a Madonna from the late Gothic period. The vestibule of the cathedral also has a classicist design. A particularly interesting element of the cathedral is the church organ with 3335 pipes and 84 stops.
Cloister
South of the cathedral there is a cloister, which is one of the most important art monuments in South Tyrol. It is believed that the cloister was built by Bishop Friedrich von Erdingen in the 14th century. The paintings come from different, mostly unknown, regional artists.
Cathedral square
In front of the cathedral is the cathedral square, where the "Lebensbrunnen", a fountain by the South Tyrolean artist Martin Rainer, is located. The different phases of human life are depicted here.
Historical Information
The original cathedral building can be dated back to the time around 980. After two fires around 1200, the cathedral was redesigned in Romanesque style with a three-aisled nave and two façade towers.
In the years from 1745 to 1754 new buildings were built, this time in baroque style with 33 different types of marble. The frescoes attached were by the artist Paul Tröger, and paintings by his students were also attached. Other features from this period include the High Ages of Theodor Benetti. The vestibule of the cathedral was built a little later, around 1783, and was made by Jakob Pirchstaller in the classical style.
How to get there
On foot:
The cathedral is located directly in the city centre of Brixen, close to the Hofburg and the Capuchin monastery. You can reach it comfortably on foot during a walk through the city centre.
By public transport:
If you travel by train to Brixen, you have about 15 minutes to walk from the station to the cathedral.
By car:
Brixen lies directly on the Brenner motorway A22. Leave the motorway at the Bressanone Brixen exit and park your car near the centre, preferably in a guarded car park. Then you should walk downtown.
Videos
Together We Are Brixen | South Tyrol | 02:35
Christmas in Brixen - SüdtirolVisit Brixen - www.brixen.orgCamera and...
Water Light Festival 2021 powered by DurstMay 2021 - Info on https://www.www.brixen.org/waterlight...
Weihnachtsmarkt Mercatino di Natale Brixen...(c) IDM Südtirol