Description
Amazing wilderness, right in the middle of a big city: that is Leipzig Zoo. Animal welfare and species conservation are combined with education and exciting explorations. With the help of authentic compounds and an extensive breeding programme, the zoo wants to take responsibility for wildlife. Visitors get to discover 850 different animal species at a 27 ha large area.
Feedings and keeper talks are many visitors' highlight. Check out the schedule online in order not to miss your favourite animal! An especially informative visit is guaranteed with a guided explorer tour. Specially designed for different target groups, they can be booked at an additional fee.
Exciting Theme Worlds
Leipzig Zoo is divided into six different theme worlds. A walk through Founder's Garden, right behind the entrance, takes you past the monkey islands, koala house, and the Aquarium.
Next you venture into Gondwanaland: a large covered area full of exotic flora and fauna. Explore the tropical rainforests of Africa, Asia, and South America by following the jungle paths, climbing the treetop trail, or drifting along in a boat on jungle river Gamanile.
The zoo's Asian district is home to Europe's largest sloth bear population. You will meet a variety of Asian animals, from elephants and Przewalski's horses to tigers and colourful birds.
Pongoland is Leipzig Zoo's pride and joy. Inside this unique hominid complex you will come across chimps, bonobos, gorillas, and orang-utans. A number of discovery stations allows visitors to explore the world of the fascinating apes.
After only a few steps you get to Africa: zebras, giraffes, and ostriches live door to door with hyenas and lions, their natural enemies. The meerkats are particularly popular with visitors. Several observation points allow for a magnificient views.
A trip to Leipzig Zoo even includes an expedition to South America. The journey starts at Hacienda Las Casas restaurant and takes you through the landscapes of Pantanal, Pampa, and Patagonia, along llamas, flamingos and other exotic animals. Furthermore, this is where you will find the animal nursery, where children get to meet goats, pigs, geese, and donkeys up close.
Historical Information
It is hard to imagine nowadays, but Leipzig Zoo acutally goes back to a restaurant. Ernst Pinkert's tavern was located here before 1978. The increasing popularity of animal shows is what gave him the idea to convert his pub into a zoological garden. Upon the opening, the zoo was already home to kangaroos, parrots, and antelopes as well as a Royal Bengal tiger and two lions. Approximately 4,500 visitors marveled at the exotic animals.
Today, Leipzig Zoo counts up to 2 million visitors per year, who come to see 850 different species.
How to get there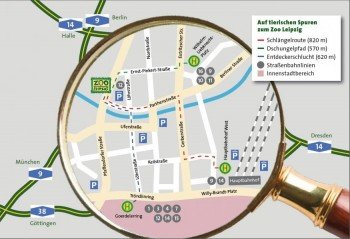 Leipzig Zoo is located in central Leipzig, and can easily be reached on foot. From the central train station, simply follow the paws you see on the ground. They will guide your way to the zoo.
If you travel on public transport, either get off at the central station and walk from there (see above), or use the trams. Number 12 gets you directly to the stop "Zoo". With trams 9, 10, 11, and 16 you get to Wilhelm-Liebknecht-Platz. Tram lines 1, 3, 4, 7, 9, 12, 14, and 15 take you to Goerdelerring station. Paw signposts point you to the zoo from here.
Coming by car, follow motorway A9 and exit at Leipzig-West. Continue towards "Zentrum" and follow the signs to the zoo's car park (fee required). Another option is to use one of the free park and ride areas. From there, simply take a tram to the zoo. This can be a good option if your car does not have the required green badge, as parts of Leipzig are low-emission zones.
Videos
Zoo Leipzig - Zoo Erlebnis #2 | 10:48
Gondwanaland Zoo LeipzigGondwanaland ist eine europaweit einzigartige...