Description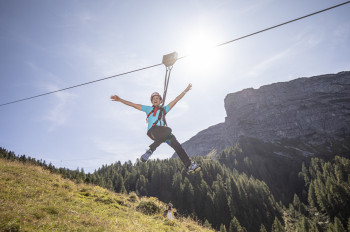 The Arena Skyliner at Gerlosstein in Zillertal Arena is not for weak nerves. The aircraft is a further development of the Flying Fox and offers even more fun, action and an incomparable bird's eye view. The Skyliner leads over a total of four routes with a length of up to 738 Meter and rushes with a maximum speed of 50 km/h over the area at Gerlosstein mountain near Zell am Ziller.
The prerequisites for driving the Skyliner are a head for heights and a minimum weight of 40 kilograms. Children between 8 and 14 years may only drive accompanied by an adult.
How to get there
To get to the Arena Skyliner an ascent with the Gerlosstein cable car is necessary. To get to the valley station of the cable car, take the Zillertal Straße / B169 to Zell am Ziller. On the B165 you continue in the direction of Heinzenberg. There are plenty of parking spaces directly at the valley station.