Route description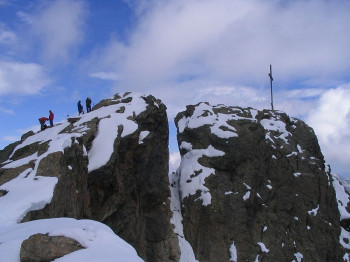 From Pettneu you will first hike through the Malfontal (valley). A hiking path leads uphill through many switchbacks. Here you will get a great view on the glacier Pettneuer Ferner and its spectacular waterfall. After appr. 1550 m (1695 yards) the hiking tour will reach the old path again, where you will turn right. After half an hour the ascending path will have taken you to the beginning of the Malfonalm.
On the cycling path, you'll continue further into the valley until you reach the valley station of the goods cable lift. Just before the station you turn left onto the steep path, which will moderately ascend through the Jakobstal (valley). At some point the path will branch off in two directions, both of which you can choose to hike on. Straight forward, along a stream, you will get to the Edmund-Graf-Hütte. Towards the left, the main route will lead to the hut slightly steeper across a rocky meadow slope. The refuge is located just underneath the Hoher Riffler (3168 m – 3464 yards) and offers a magnificent view. The descent will be hiked on the same path back. At the beginning of the Malfonalm, it is recommended to use the new driveway to hike downhill to Pettneu again.
Interesting facts
You're traveling a distance of 8 miles on this moderate trail. The average length of all hikes in Tyrol is 9 miles.
Make sure to bring sturdy footwear on this track. Hiking boots are highly recommended. There are places to buy beverages and food along the track. However it's always recommended to bring enough water and food along with you.
Highlights of the tour
During the hiking tour through the Malfontal (valley) you'll get a view on the ice of the glacier Pettneuer Ferner and you'll be witnessing a spectacular waterfall.
Getting here
By car
On the fast track S16 you'll take the exit at Pettneu. At the sawmill, not far from the Rosanna bridge (Rosannabrücke), you keep towards the east. When you will finally have reached the last few houses (pay attention to the sign "Malfonalm"), you will continue following the stream until you see the "no vehicles" sign. Here you'll find car parks. Take the train to St. Anton am Arlberg. As a railjet station many fast trains will stop here. At the station, you'll find the bus (number 4242) which will take you to Pettneu (get off at the bus stop Pettneu a. A. West).
The tour starts in Pettneu am Arlberg. In the vicinity of the Malfonbach you'll find car parks.