Route description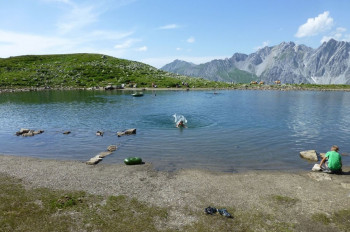 Starting point is the street Arlbergpassstraße above the guest house Valluga in St. Christoph. From there shortly ascending and you will reach a junction. Follow the signs towards Kaltenberghütte – Variation: follow the path Berggeistweg. The hike first leads upwards over winding roads and afterwards onto a steep track above the beautiful landscape Maroital. Up there you also have a great view on St. Anton and the peaks of Patteriol. After a short descend the hike continues upwards to the station Albonagrat. Continue west above the valley Klostertal till you reach Kaltenberghütte, the turning point. At 2089 m difference of altitude you can enjoy a great panorama overlooking the valley Klostertal and the peaks of Lechquellengebirge. For a quick cool down you can go to the close by mountain lake. Five minutes away from the hut on a small plateau.
Now follow the path Paul-Bantlin-Weg slowly descending towards north-east. Following a small trial you reach the lakes Albonaseen where you can rest. Over a last steep track you get back to St. Christoph.
Interesting facts
You're traveling a distance of 8 miles on this easy trail. The average length of all hikes in Tyrol is 9 miles.
In case of good weather conditions, the hike can also be done without bringing your hiking boots. There are places to buy beverages and food along the track. However it's always recommended to bring enough water and food along with you.
Highlights of the tour
Highlights of this tour are the view from the hut Kaltenberghütte and the lakes Albonaseen, which are wonderful to take a break.
Equipment
The hike does not have any special difficulties. We still recommend alpine boots.
Getting here
By car
Starting in Salzburg or Munich you reach St. Anton am Arlberg via S16 towards Landeck. Take exit "St. Anton am Arlberg" and continue on B197, which will take you to the guest house Valluga. Starting in Stuttgart or Zurich first drive towards Feldkirch and Bludenz on S16. Take exit "Langen a.A./Klösterle" towards Arlbergpass (B197). Follow the road till you reach the guest house Valluga.
You can also reach St. Anton easily by train. All important international fast trains stop here.
By public transport
The bus 92 takes you from St. Anton to St. Christoph.