Description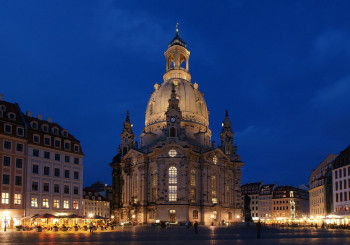 Frauenkirche is located in Dresden, the capital of the German state of Saxony. It is considered Dresden's landmark and became a symbol of tolerance and peace due to its destruction and reconstruction.
Guided Tour
For an educational visit guides are available during opening hours to answer all your questions about the church. There are also audio guides available to rent. Furthermore, a special guided tour about the history, architecture and the religious meaning of the church can be booked in advance.
Events
The lower church serves as a place for devotion and prayer. Moreover, the church holds services, concerts and literature evenings to support tolerance and peace and to maintain the church a place for encounter and exchange. Additionally, a special event called Forum Frauenkirche takes place every year. Public figures and scientists are invited to discuss issues of peace and to find new approaches on how to achieve it.
Historical Information
The ecclesiastical building was built between 1726 and 1743 by George Bähr. Especially to mention is the famous dome called Stone Bell that was at the time considered to be an architectural masterpiece. Nowadays it is an important component of Dresden's panorama.
On 13 February 1945, the church was bombed and completely destroyed. The sandstone could not withstand the high temperatures for more than a day and collapsed. However, after German reunification, Dresden started to rebuild the church and completed constructions in 2005. Later that year, Frauenkirche was consecrated in a festive ceremony. Since then, Frauenkirche has become a famous sight for tourists from all over the world.
How to get there
Public transportation:
Tram 1, 2, 4, 12, stop: Altenmarkt
Tram 3, 6, 7, and bus 75, stop: Pirnaischer Platz
We do not recommend to travel by car since there are only very few parking spots available.
Videos
◄ Frauenkirche, Dresden [HD] ► | 07:22
Besichtigung der Dresdner Frauenkirche in 4KDie Frauenkirche in Dresden (ursprünglich Kirche Unserer...