Description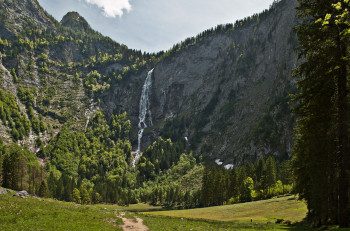 Located behind Obersee (Lake Königssee) in Berchtesgaden National Park, the idyllic Röthbach Waterfall cascades 470m/1,542ft down, making it the highest waterfall in Germany, and one of the highest in the Alps. Over two main steps, it plummets down Röth wall into the basin of Lake Königssee.
Thanks to its location in the national park, and the rather complicated way of getting there, Röthbach Waterfall has been spared by the tourist masses thus far, and is still the pristine natural spectacle it has been. The second highest waterfall in Germany, Landtalfall, is located right next to it, a bit further north.
How to get there
To get to the waterfall, you have to take a boat across Lake Königssee to Salet Alp, and then hike around Lake Obersee to Fischunkel Alp. From there, you need to cross a small bit of forest, until you get to the waterfall.
Video
Königssee & St. Bartholomä im... | 01:43