Description
The New Pinakothek Gallery is currently closed due to construction works, and is expected to reopen in 2025. Selected exhibits from the 19th century will be shown at the Old Pinakothek and Schack collection from summer 2019.
At the New Pinakothek in Munich, you get an overview of European art from the 18th, 19th and early 20th century, from Classicism up to Art Nouveau. The collection includes paintings from Van Gogh, Monet, Klimt and Degas. Changing exhibitions complete the visit at New Pinakothek.
Post cards, art prints and other presents as well as publications of New Pinakothek are available at the museum shop. After you've done travelling through time and past eras, you can treat yourself at Restaurant Hunsinger. In good weather, the terrace is open in the evening as well.
If you want to go back further and get to know the Old Masters of art, we recommend a visit of the Old Pinakothek, located right next door, where you can find pieces from the Middle Ages up to 18th century.
Historical Information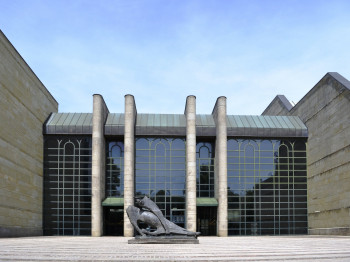 New Pinakothek was created at the request of King Ludwig I. The building was severely damaged during the First World War, and demolished a few years later. Construction for the new building started in the late 1970s.
How to get there
We recommend traveling by public transportation, as there is no parking available around the museum.
Tram: line 27: stop 'Pinakotheken'
Subway:
U2: Stop 'Theresienstraße'
U3, U6: Stop 'Odeonsplatz' or 'Universität'
U4, U5: Stop 'Odeonsplatz'
 
Bus
Line 100: Stop 'Pinakotheken'
Line 154: Stop 'Schellingstraße'
 
Parking for tour busses is available around the museum.
Video
Visit the Neue Pinakothek, Munich | 08:55