Description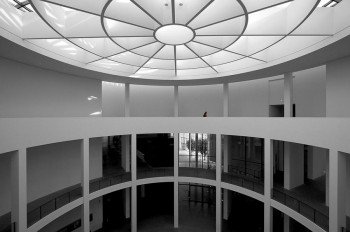 Pinakothek of Modern Age in Munich comprises four independent museums. The Collection of Modern Art was remodeled in 2013. The complete collection consists of over 3000 pieces of classical modern age, however, but a small selection is displayed in the 35 exhibition rooms. You can examine works by Pablo Picasso, Salvador Dali, Joseph Beuy and Andy Warhol.
The Public Graphic Collection is one of the leading graphic collections in the world. The museum holds around 400,000 prints from the 12th century to present day. On a regular basis, samples of these documents are displayed at the Pinakothek of Modern Age. The New Collection of Design is a design museum exhibiting a broad range of different pieces from old computer and jewelry to shoes and vehicles.
The Architectural Museum of Munich's technical university, TU München, hosts the historical memories of the faculty and owns documents dating back as far as to the 16th century. In addition, it is the largest archive for architectural development in Germany.
How to get there
On public transport
As there is no car park at the museum (parking available for tour buses), traveling on public transport is highly recommended.
Tram: line 27, stop Pinakotheken
Subway:
U3, U6: Stop Odeonsplatz or Universität
U4, U5: Stop Odeonsplatz
U2: Stop Königsplatz or Theresienstraße
 
Bus:
Line 154: Stop Schellingstraße
Line 100: Stop Pinakotheken
Line 100: Stop Maxvorstadt/Sammlung Brandhorst
Video
Pinakothek der Moderne | 02:08