Description
Neuschwanstein Castle is the most famous castle of Bavarian King Ludwig II. More than any other, Neuschwanstein represents the ideals and principles of the so-called "Märchenkönig" (Fairy Tale King). He was fascinated by the Middle Ages and wanted to live in his own world of dreams. Neuschwanstein was modeled after a knight's castle. The picture sequences in the inside the castle show famous sagas. Saga characters like Tannhäuser and Parsifal served Richard Wagner, one of the most famous German composers of the 19th century, as models for his operas. King Ludwig II adored Richard Wagner and even devoted Neuschwanstein castle to him.
Nowadays, you can only visit the castle in the course of a guided tour. Tickets are available at the ticket center in Hohenschwangau, located at the foot of the castle grounds. To get up to the castle you can either walk (about 30 min), take a horse-drawn carriage, or a bus. The 30 minute tour of the castle's interior starts on the upper floor, where the servants' rooms are located. Afterwards you will explore the king's living and show rooms. After the tour, you are welcome to visit the historic kitchen.
Historical Information
Even though the design was inspired by the Middle Ages, the technology used for construction was very modern. The castle had running water, central heating and a telephone connection. Construction of "New Castle of Hohenschwangau", as it was called in the beginning, started in 1868. Ludwig II did not live to see its completion. The bower and the square tower were added in only in 1892, 6 years after Ludwig's death.
How to get there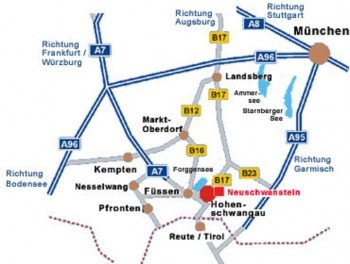 By car:
1. Take autobahn A7 (Ulm/Kempten/Füssen) until you get to Füssen. There take B17 to Schwangau and at the end of the road turn right towards Hohenschwangau.
2. Take A7 and exit in Kempten, then take B12 to Marktoberdorf. Continue on B16 until you reach Roßhaupten. Afterwards take the OAL 1 to Buching and finally B17 to Schwangau and Hohenschwangau.
By train:
Take a train to Füssen. From there, bus RVA/OVG 73 towards Steingaden/Garmisch-Partenkirchen or bus RVA/OVG 78 to Schwangau will take you to the bus stop Hohenschwangau/Aplseestraße.
Videos
Castle Neuschwanstein 4k - Drone DJI... | 02:29
◄ Neuschwanstein Castle, Germany [HD] ►subscription_center
4K Schloß Neuschwanstein & MarienbrückeSchloß Neuschwanstein & Marienbrücke 4KSchloss...