Description
The Rococo style New Palace in Bayreuth was the residence of the Margraves of Bayreuth from the middle of the 18th century.
With princely state rooms, a branch gallery of the Bayerische Staatsgemäldesammlung, the museum "Das Bayreuth der Markgräfin Wilhelmine", the Fayencensammlung and theme rooms on the theatre architect family Galli Bibiena, it is still a popular destination today. Not far away is the magnificent Hofgarten Bayreuth.
Historical Information
After the old baroque city palace of the market counts was completely destroyed in a fire in 1753, market count Friedrich von Brandenburg-Bayreuth commissioned the French architect Joseph Saint-Pierre to build a new residence palace.
Bayreuth Rococo
The New Palace is in the style of the "Bayreuth Rococo", in which not the grandiose and overwhelming, but the tender and intimate are in the foreground. The building received its charm largely from Frederick's wife, the market countess and sister of Frederick the Great, Wilhelmine.
In addition to the famous Cabinet of Shards of Mirrors, she also designed the Old Music Room, in which numerous portraits of artists can be seen.
Characteristic for the rococo style in Bayreuth are the valuable walnut panelling and the gilded palm trees in the palm room. This is located in the southern wing, in the private chambers of the Market Count.
One of the most beautiful rooms of the castle is the Japanese Room. It gives the impression of being in a trellis surrounded by exotic flowers.
Italian castle
For his second wife, Sophie Karoline von Braunschweig-Wolfenbüttel, Market Count Friedrich had the Italian castle built in 1759. The small castle, which was actually built as a free-standing building, was connected shortly afterwards to the south wing of the main castle.
How to get there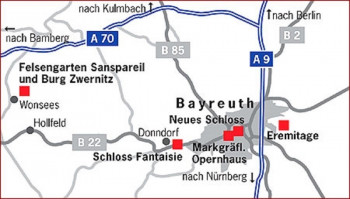 By car
Bayreuth can be reached via the A9 Munich-Berlin and the A70 Bayreuth-Schweinfurt as well as the B2, B22 and B85 federal roads. The New Palace and the Court Garden are located in the city centre. Near the New Palace there is a parking lot with costs (P6 Stadthalle)
By public transport
From Bayreuth main station, bus line 314 goes to the "Sternplatz" stop, which is located at the castle.
Video
Neues Schloss Bayreuth | Schlösser in... | 01:00