Description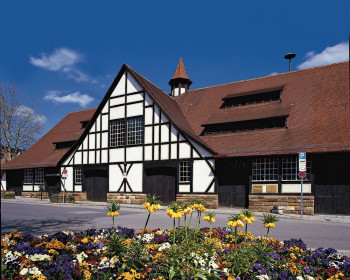 For over 30 years now, the history of viticulture in the wine metropolis of Stuttgart can be traced. Surrounded by the vineyards at the foot of Württemberg, the museum is located in the district of Uhlbach
Viticulture from antiquity to modern times
The change in viticulture and the leap in quality in Stuttgart's wine go hand in hand with the change in the Viticulture Museum: In autumn 2012, the museum was redesigned both visually and in terms of content. The exhibits range from hundred year old opulently decorated wine barrels and drinking vessels from Roman times to the artfully carved figure of Saint Urban, presented in a modern and contemporary way. The museum tour covers twelve topics related to the development of viticulture in the Stuttgart region. The winemakers from Stuttgart also have their say, and wine can be experienced in a taster course. One area deals with the responsible use of wine: "intoxication and sobriety".
Wine tasting session
The wines of the region can be tasted in the associated wine cellar, where 20 different wines are on the menu every month.
How to get there
By public transport
From the main station the S-Bahn lines S 1 in the direction of Krichheim or Esslingen will take you to Obertürkheim. From there, bus 62 will take you to Uhlheim. Get off at the Uhlbach stop and you will reach the Wine Museum in two minutes on foot.